James Michel & Parti Lepep Have Residents of La Misere Drink Human Excrement Water
The 20 foot containers leave the
Seychelles
International
Airport
runway with no Australian Customs bigots around to check the contents. Buses full of Indians, Bangladeshis, Pakistanis and Sri Lankans drive straight from the airport to the forested hills of La Misere; fast-track immigration procedures not a problem. More containers leave
Victoria
Port
and drive right through the Customs and Security Gates. No Irish policemen to be found and no searches or bill-of-entries required. The large overloaded trucks drive up to La Misere, destroying the roads and scattering cars, people and everything else on their way up the narrow La Louise and La Misere roads. No import permits required, no paperwork, no work permits, no tax and no duty levied. All
courtesy of one President James Alix Michel and his corrupt PP Party.
Destination of containers: Sheikh Khalifa Bin Zayed Al Nahyan's Palace which is under construction on the now scarred mountains of La Misere. All 27 beautiful acres gifted away for ONE SEYCHELLES RUPEE (SCR 1) or TEN AMERICAN CENTS (US$ 0.10). An abomination of a castle that has forever ruined the skyline of the once beautiful La Misere mountains is now under construction for the Ruler of Abu Dhabi.
Courtesy of one James Alix Michel and his corrupt PP Party.
Meanwhile, apart from the blasting and destruction of million-year old granite rocks and the sad annihilation of the endangered Seychelles White-Eye bird habitat, the La Misere water sources have recently been contaminated with human excrement from SEVEN HUNDRED (700) construction workers who are working on Khalifa's massive concrete monstrosity of a structure. No Gainful Occupancy Permit (GOP) paid, making these workers illegal. The Seychelles Broadcasting Corporation (SBC) has reported that the construction company doing the building works has no license and has not applied to do business in
Seychelles
.
Courtesy of James Alix Michel and his corrupt PP Party.
The residents of La Misere and the surrounding mountainside villages have had to endure nothing short of torture to have feces running out of water taps at their homes. A few months before, they had to put up with water contaminated with diesel fuel that had leaked when a fuel tank was damaged by the illegal construction. State House, Ministry of Environment, SBC, the MNA for Grand Anse/La Misere and all of the other PP Party stalwarts buried their heads in the sand and ignored the cries of help from the residents of the area. Farmers crops were wiped out, and residents had to haul water from elsewhere in order to bathe their children let alone cook their meals. Only after the residents were faced with an ungodly, inhumane predicament such as human excrement in their taps and after hundreds of calls to state-owned SBC did the Station finally show up with a camera to film the evidence. The SBC filmed excrement flowing through a bathroom sink of one poor resident, who will now have to re-pipe and replace all sanitaryware in her home. Some residents have been admitted to hospital with stomach pains and other ailments. All
courtesy of one culpable James Alix Michel and his corrupt PP Party… Mukesh Valabhji's desalinated salty water is starting to taste pretty good at this point!
The La Misere construction site lacks sanitary living standards acceptable to accommodate 700 workers, let alone 5 workers. But then, the Sheikhs of United Arab Emirates (UAE) are used to enslaving their workers and getting them to work in inhumane conditions in the desert heat for little pay. If you don't like it, you are deported. And here in our small
Seychelles
, all caution has been thrown out with the Arabic Al-Shamal wind. Even the Government of Seychelles authorities were initially denied entry to the site. This in itself is preposterous and violates our sovereignty, let alone our laws. Any other site would have been issued with a Stop Works Order, pending a hearing and full 100% resolution of the matter of overflowing excrement and diesel in drinking and potable water. The site would have been swarming with workers from the Ministry of Environment and the Immigration Department. But not this time around. The Sheikh has been given immunity and laws have been changed to please the Abu Dhabi Kingdom Ruler.
Courtesy: who else but James Michel and his corrupt SPPF Party!
The question remains to be answered is does this construction company even exist in
Seychelles
? Has it incorporated in
Seychelles
or did the workers just get off the Russian Antonov that flies in daily and go up to La Misere to work for Sheikh Khalifa? The answers of course, just like the content of those 20-foot containers, lies with no other than
James Alix Michel and his corrupt PP Party.
Meanwhile, global traveler Michel and Secretary of State Adam are nowhere to be found and hiding behind Minister DO-IT-ALL
Joel Morgan
and the ever-ineffective Environment Principal Secretary Dogley. Not a time for photo-op or TV appearance now is it, Mr. President of all Seychellois? We guess this gives new meaning to the saying that "when you are in the sh*ts, you really have no friends"!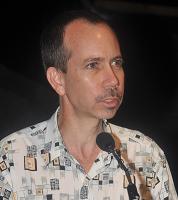 So in steps Mr. Dogley from the Ministry of Environment to state that "they are dealing with the matter". Which matter we are not sure, but we have to assume he is referring to the brown matter! He has urged the non-licensed contractor to negotiate individually with the residents of La Misere to reach amicable monetary settlements. I guess the "MATTER" has finally been taken seriously and someone is in deep doo-doo! Reminds me of UN Secretary General Ban-Ki-Moon sending "nice" letters to Mahmoud Ahmadinejad and Kim Jong-iL respectively to ask them to stop enriching uranium!
In the meantime, we certainly hope that the affected residents choose an excellent lawyer to file their class action lawsuit. Incidentally, one Mr. France Albert Rene is available. He may be willing to take the case since it smells of you know what, and he is retired and living off a small Seychelles pension and has told us so many times that he has "tres peu de sous". With his old slogans of "Sesel pou Seselwa", I am sure that he can dust off his old white lawyer's wig and get his state-paid bodyguards to drive him to the dilapidated
Victoria
court house. Maybe in his twilight, the old man can put some order back in the Judiciary, a branch of Government that he single-handedly dismantled and brought into disrepute throughout his 33 years of reign over us poor Seychellois. What a comeback that would be, and what a way to go out with a victory for the poor, hapless Seychellois people.
My recommended settlement would be at least the following for all members of the affected La Misere families. And lest we forget, "La Misere" ironically translates to "The Poor":
1. UAE Passport and Emirati Citizenship - should not be difficult to win this as we sell our own Seychellois passports and dole out citizenship to anyone with a few dollars in their pockets
2. Free Medical for Life at UAE's best hospitals and clinics -
Seychelles
health system is deplorable, so once again, this should be non-negotiable
3. Free First Class flights on Emirates Airlines and Etihad for life - since James Michel and his SPPF-PP entourage prefers those 2 airlines over our own Air
Seychelles
, this is simply a matter of following the leader. Furthermore, First and Business Seats on Air
Seychelles
are reserved for the Renes, Savys, Adam and Corvina family members. So this is non-negotiable.
4. Lifetime disability payment of US$ 25,000 per month to each family member
5. A one-time settlement of US$ 5,000,000 each per family - Drop in the oil bucket if you ask me, so need to stand firm on this point
6. Free Evian Bottled Mineral Water for life - Might as well go for Evian because Dr. Ramados' Aqua water is already tainted with that "brown matter"
7. A Gold Toilet for each house affected - This will simply serve as a reminder of what the poor La Misere residents had to endure
8. And finally, a house on 27 Acres of Free-Hold land in
Abu Dhabi
or
Dubai
; preferably on one of those man made islands with a view of the ocean. With one condition however that the affected members will buy the plot for US$ 0.10 (Ten US American Cents). This is simply to remind Sheikh Khalifa of his own guilt when compared to the generosity of our own ruling President Michel whose guilt is impossible to describe in this short article.
And if the supposedly great Attorney can wield his influence on the local Judges like he used to in the past, then by the power invested in this great Architect cum-Messiah cum-Attorney, I can see some new Seychellois-Emirati millionaires in the making. Finally, the man would have created some new millionaires other than the SPPF-PP ones he created while in power. And his journey would be truly complete and God might even find it in his good heart to offer redemption at the Pearly Gates.
Sadly for
Seychelles
, most Seychellois and foreigners alike have realized that the SPPF-PP Party led by James Michel, have taken the citizens of
Seychelles
to its lowest level ever. After all, can one get any lower than drinking water mixed with excrement from 700 non-GOP, illegal workers? Even the UAE Arabian desert camels have more dignity!
Now that some foreigners can do whatever they want in our small
Seychelles
and get away with breaking every law in the book, courtesy of one
James Alix Michel and his corrupt PP Party,
I guess it is time for Seychellois to be put to the test once and for all. The ballot papers will be printed in the near future, and we will all get the chance to give one man or one woman our vote of confidence. Michel told us and I quote: "Judge me by my actions". I guess we will and the answer hopefully will hold water. Clean water that is, and not the brown water he has been serving us since he came to power!
Contributed to STAR by Smart Alec