Letters from Father John Gappy circulating on the internet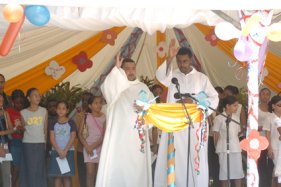 Father John Gappy (left) in happier times
I have recieved some emails these last 2 days asking me if the
latest rumour about me is true....this time it is true.
Yet, there was a deal between Mgr Denis and myself that the news
would go public on July 15...so that I would also write to you all
at the same time....but he has not kept his promise...as usual, nothing
new. He has already told some people about my decision and this is of
course spreading.
Rest assured, I am at peace and really feeling good that I have at last
come to terms with a hierarchy that functions in an authoritarian manner.
It is either you comply...or get out...I have opted to get out.
When I came home last year, after a lot of fighting...you surely remember....
I really felt the warmth of all the Seychellois I met everywhere I went.
Therefore, my decision has nothing to do with our people who I love
and will always do.
Since Echo will only mention a very small part of my letter, I believe
that the Seychellois is entitled to read everything. Therefore, find below
my letter of June 23rd.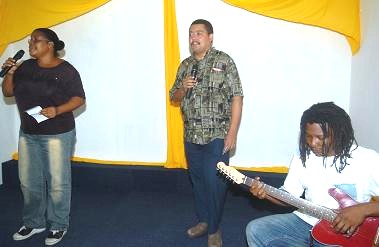 Father Gappy (centre) - The happy singing Seychellois priest
----------------------------------------------------------------------------------------------
Tuesday 21st

of June 2011,
On June 25th

2011 it will be exactly five years since I landed in Manila. A lot of events have affected my life throughout these last five years, both positively and negatively. After this prolonged review and discernment, where I have extensively tested my deep longings and desires, I come to the following conclusions.
1. I still have the desire to accompany people in their life journeys similar to what I have been doing as a priest for these last 17 years.
2. However, I have decided to contribute towards positive social transformations of myself and my surrounding in a different way. The divine coincidence of being accepted into Applied Anthropology and Sociology civil Master's degree at the Ateneo de Manila University is kind of unexpected… it is not at all a 'temptation'….simply a door opening up, a God-given opportunity that I will not ignore.
Rest assured, I am writing this letter with deep serenity, peace, clarity of mind and a profound sense of 'the truth shall set you free'. Let me insist, there are no more frustrations, no more anger and no more ill-feelings in my entire being. I have allowed myself to heal and to forgive. This is why I believe that my discernment is genuine, as much as one can "know" what direction one should take.
I am sorry about the pain that my decision might bring to the Church in Seychelles. On the other hand, the time has come for me to make a decision. It is not healthy, neither for me nor for the people of Seychelles, that I let my future remain a floating issue. I want to feel solid ground under my feet and move on. The Lord works in mysterious ways and already new paths are bringing new meanings to my life. I pray that my decision, formulated and reviewed over these last six months (after more than four years of discernment) will be accepted with the same tranquility in which I have made it.
I sincerely thank the people of Seychelles for all the support they have given me, especially in times of trials. Some day I will serve our Seychellois people in a different way, God willing. I thank the Diocese of Port-Victoria for her financial support up to 2010. I thank the Lord for opening unexpected doors when I decided to support myself since 2010 up to this day. I am now full of hope that the same God will be my guide, inspiration and protector in the journey ahead.
The Seychellois people will always have a special place in my heart.

I hope that I will also be remembered by them.