Viral Dhanjee Has The Communist Beast By The Tail
After the MSR was blocked from being registered as a political party in the last election and political debate in Seychelles was curtailed by a communist system in place that feared the principle of "Sesel Pou Seselwa", one of its members Viral Vadilal Dhanjee set out to file papers as an Independent Presidential Candidate.
Viral Dhanjee outside the Court House
First MSR and Christopher Gill denied their rights
Then it was the turn of Seychelles patriot Viral Dhanjee (left) to be denied his rights
Mr. Dhanjee's candidacy was refused, and he was denied participation in the elections, a direct violation of his right to participate in public and political affairs of his country. This not only violates the Constitution of the Republic of Seychelles, it is a violation of the UN Charter of Fundamental Human Rights, which the communists have ratified. Typical of communists, they say one thing, do another. When they do this little exercise, they pass themselves off as being smart and capable. They are not of course, and every patriotic Seychellois, must tell them to their face, the truth.
Hire A Fighter For Freedom
To take on the communists establishment point man Mr. Hendrick Gappy the Electoral Commissioner, Mr. Dhanjee and his advisors knocked on the doors of tough, no nonsense lawyer who is very intelligent, and brews with a fighting spirit when human rights are at stake: Madam Alexia Amesbury. Madam Amesbury is earning a well deserved reputation for being a real Fighter for Freedom. Her tenacity to see victory is second to none when it comes to Human Rights.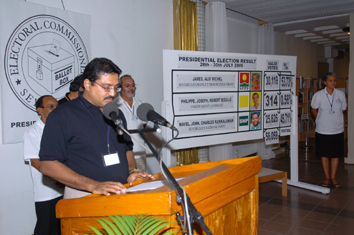 Hendrick Gappy - Electoral Commissioner appointed by President Michel - How appropriate!
Constitutional Court Rules In Dhanjee's Favor
Well prior to the elections, the Constitutional Court ruled in favor of Mr. Dhanjee being entitled to stand as a Presidential Candidate. However, in typical communist arrogance, the Electoral Commissioner and his team ignored the decision, and denied Mr. Dhanjee the right to file his candidacy. Hence, as the elections were in place, Mr. Dhanjee's name was not on the ballot paper, for fear, that he would pull the balance of votes needed to push a second round.
Madam Amesbury filed a motion to the Court of Appeals to stop the elections, until such time that Mr. Dhanjee's candidacy was present on the ballot paper. In an erroneous ruling, Justice Macgregor applied the Balance of Convenience Test for Injunctions, to a Fundamental Human Rights issue. When Human Rights are at issue, it is never convenient to the state.
Mrs. Amesbury fighting for justice
Attorney General Ronny Govinden (left) decided to step in illegally to save Gappy
Justice Macgregor is a former SPUP founder, and Central Committee member of the SPPF. He has been an MNA and Speaker of the National Assembly for many years, and he has been nominated -appointed by the SPPF PL as a Justice to the Court of Appeals. With this in mind, Madam Amesbury filed a motion to have Justice Macgregor removed from the bench for this case, as Mr. Dhanjee did not believe he could obtain justice with his presence. Similarly a Motion will be filed to remove Justice Hodoul, a former Minister in the SPUP Government and another SPPF PL appointment. Justice Hodoul also suffers from medical issues that may prevent him from delivering justice. As many will recall, Minister Hodoul signed numerous Land Acquisition Act property orders in the Rene's One Party State.

This caused many Seychellois to lose their properties and still today, many have not received compensation for these wrongful and illegal communist-based acquisitions.
Justice MacGregor getting some poor advice from his mentor Michel --- Justice Jacques Hodoul
In a rash move, to get rid of Mr. Dhanjee's

case, it appears that the Court of Appeals is doing the politically expeditious thing: hear the case on July 12, 2011 and get rid of it to save face for sham elect president, James Michel (PL).
The Court Is Inconsequential To Human Rights Violation
Regardless of the decision of the Court of Appeals, Mr. Dhanjee's lawyer has been burning the midnight oil for Freedom and has extensively researched the UN Fundamental Human Rights Charter obligations the Seychelles is being held to uphold by the Dhanjee case.
Pull The Communist Beast Tail
After the Court of Appeals is finished, the Dhanjee case will go to Geneva, before the UN Human Rights Committee. The case will be heard, and very likely, Dhanjee will win his case again. When that happens the Committee will very likely SANCTION the communist regime in Seychelles until the elections are set aside and Mr. Dhanjee is given the opportunity to stand as a candidate, as he should have been given in the first place.
Such a ruling, will affect international funding for Seychelles initiated requests. Jean Paul Adam will have his plate overrunning with SANCTIONS before the UN Human Rights Committee. Dhanjee pursues his case because he is a great patriot who loves his country. The pain, you communists, will only end when we have new presidential elections, and you end the practice of sham rigged Gappy-led elections in Seychelles.
Seychelles
SANCTIONED For No Human Rights Country Report
Only in March 2011, the Seychelles was SANCTIONED by the UN Human Rights Committee in Geneva, Switzerland, for not filing any Country Report for over Seventeen (17) years. This violates Eight (8) different conventions on human rights.
Minister Jean-Paul Adam - No time for Human Rights reports, but plenty of time to party
The message is on the wall: "The Communists in Seychelles are being exposed".
Anyone that attempts to give credibility to Communists for self gain, promotion, or self enrichment, will similarly be exposed as well!
No good ever comes from a deal with the Devil…..
May God Bless All Freedom Loving Seychellois!